Vaishnavi: invite neighbourhood youth to your community garden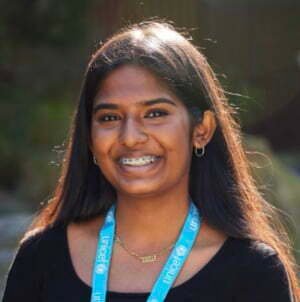 Report by Vaishnavi Nagarajah, a senior student at MLC School, Burwood
According to a recent article, I was reading (CNBC access here ), younger generations are the most concerned about the planet's well-being and affairs in relation to the environment. However, younger individuals still lack a mode of output where they can turn their passions and beliefs into something bigger!
I recently attended the UNICEF Better World Youth Summit with the theme of creating a world in which we wanted to live in. Around 100 Year 10 students were invited to share their views and it was an extremely eventful day. We were asked many questions but this stood out to me…
"What are some crucial elements you would like in your community?"
Many answered with "Greenery", "Sustainability" and "Connectability" and these tie in perfectly with the model and values of Community Gardens.
One sustainable gardening technique that was surprisingly brought up often in this summit was vertical gardening. Not only sustainable but saves space, it is perfect for smaller gardens and looks amazing!
Indoor vertical farming minimises the number of fossil fuels required for agricultural equipment while also reducing occupational dangers connected with traditional farming. Furthermore, it helps to increase biodiversity because it does not bother animals or plants or destroy land or soil.
Although start-up fees are expensive they are definitely a great project worth your time. Personally, I believe this is an excellent modern mode of gardening and I am excited to see the future and growth of this technique!
Interesting Do It Yourself YouTube
There are some excellent Do It Yourself alternatives on youtube that would be a great bonding experience for your community garden to give a shot! Below are my favourite videos.
Working with a new age demographic creates more opportunities for ideas and strategies like the above which can create more sustainable production methods, less wastage and overall eco-friendliness in your community.
Here are 2 simple initiatives that get me excited…
Word of mouth: Simple, effective and my favourite method. I love to chat and if you do too why not share your love for gardening with your neighbours and friends? Who knows you may find more keen green fingers. Younger communities may also not be aware of community gardens near them. (P.S what you are growing in your gardens are great family dinner discussions)
Posters: Share your community garden across your neighbourhood with visual effects. This will attract not only younger audiences (including me!) but any audience and is beneficial for giving a chance to involve the whole community. It is also a lovely way to get creative and think about how you want to protect your garden values in your community.
Diversify your community garden today by inviting your neighbourhood youth, not only will it be something to bond over but it also unites everyone through passions regardless of age. I am looking forward to seeing many younger gardeners appear in our wider community.