Simple pleasures — recipes
Recipes from the residents of Loxton Lodge, November 2007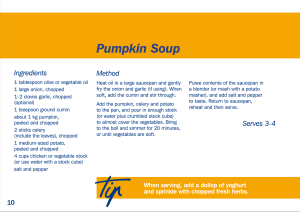 This cookbook was a joint project between Cultivating Community and Melbourne's Inner South Community Health Service through its High Rise Support Program and was generously supported by Stonnington City Council.
Cultivating Community is a not-for-profit organisation initially set up to support community garden projects in inner-city public housing estates and now promotes and supports the development of projects like these in the broader community. Access to such a basic resource as soil is limited in the inner city: community gardens are extremely popular, so there are long waiting lists. The only real solution is to create more community gardens — every inner suburb should have one!
The High Rise Support Program aims to improve the health and well-being of tenants at five high-rise public housing estates in Melbourn's inner south, which includes Loxton Lodge, by offering a rich range of activities to tenants, such as exerciser groups, social activities, community gardens, and educational programs.
---
CONTENTS
Introduction
Recipes
Soups
Sandy's Lam-shank and veggie soup
Pumpkin soup
Garden pea and lettuce soup
Zucchini soup
Creamy carrot and orange soup.
Main dishes
Polina's gefilte fish
Kaytya's vegetable pancakes
Eggplant with capsicum and tomatoes
Katya's cabbage rolls
Vincent's chilli beef burgers
Pasta with veggie sauce
Lyubov c's mushroom salad
Dora's tuna patties
Klara's potato cakes
Vincent's stir-fried winter vegetables
Moussaka.
Sweet treats
Katya's cottage-cheese patties
Lidia's pancakes
Marija's honey cake
Poached pears
Marija's white pie.
Sauces & preserves
Roasted red capsicum sauce
Fresh chilli jam
Green tomato chutney
Pickled eggplant.